McKenna Garfein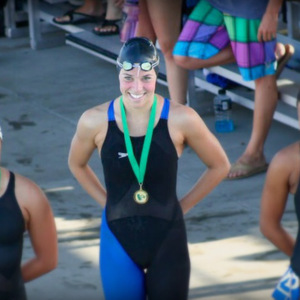 Like many other competitive swimmers, I had shoulder problems due to over-use. I had gone to the doctors and tried several different massage therapists, but nothing really helped. When I heard about Active Release with Asher I made an appointment right away. The pain in my shoulders started to subside almost right away. Asher really knows how to find the main source of the problem and the tension that is causing the problems. My times improved and I began to enjoy swimming more because I wasn't in pain anymore.
Soon after my shoulders started feeling better, Asher started to work on my legs too. My main event is backstroke, which means I depend largely on my legs. As Asher worked on my legs I could immediately feel them getting looser, and they felt light and relaxed.
In my senior year of high school, which was when I started seeing Asher, I won CIFs in the 100 backstroke by a landslide and I believe that Asher was a big part of that. Before college, it is rare to find someone that is able to take care of you like an athletic trainer would, but Asher is just that person. I was so fortunate to find Asher and I believe that he had a very large part of my success in high school.
I went back to Asher this past summer while I was home from college and I was impressed with his new place in Oceanside. As always, after working with Asher I felt much better and was able to go back to swim without any pain. Asher gave me stretches and positions to roll out in and everything was so helpful. I went to my summer championship meet and I won the 200 Backstroke. Again, I give Asher a lot of credit for my success because I wouldn't be able to swim if I was in pain. As much as it hurts sometimes I really enjoy going to Active Release with Asher because it works, I always feel better after my appointment. I find it fascinating how Asher works his way from the place of the pain to the main problem, which could be in a completely different part of the body than where the pain is.
Going to Active Release with Asher is something I look forward to because I know when I walk out of the office I will be feeling better than when I walked in to it.